The 2nd ever UK Thumb Wresting Championships IS BEING HELD IN lOWESTOFT NEAR PAKEFIELD ON SAT 7TH AUGUST FROM 14:00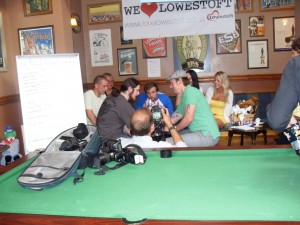 This sporting event will see the very best thumb wrestlers from across the UK battling it out to be crowned the 2nd ever official UK thumb wrestling champion IN lOWESTOFT.
Thumb wrestling or thumb warring is a popular game played by two players in a tournament called a thumb-a-war (or thumb war). Thumb Wrestling competitors hook the four fingers of their right (or left) hands together such that both hands are clasped tightly. Then a short starting chant is performed and the 60 second contest begins, with the winner being the person who can hold down the opponents thumb for as long as it takes to say, one, two, three, four, I win thumb-o-war!
The UK Thumb Wrestling Association are proud to be again holding the UK Thumb Wrestling Championships. Thumb wrestling has for a long time been an under valued sport in the UK calendar which is surprising as nearly 50% of the population participate in thumb wrestling at least once a year. We therefore hope this event will have a long and prosperous future and we aim to be pushing the London 2012 Olympic committee to have Thumb Wrestling recognised as an Olympic event in the forthcoming Olympic games.
More information on the UK Thumb Wrestling Championships, such as times, dates, and rules can be found at www.ThumbWrestling.co.uk and keep checking back to see for the latest Thumb Wrestling Championships news.