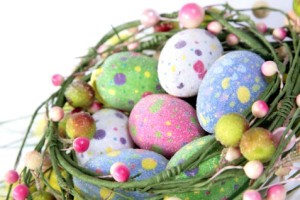 Easter is fast approaching, which means trips to the supermarket for armfuls of giant chocolate eggs. But if you've got the whole family together for Easter, make sure you don't waste the opportunity for some good old fashioned family Easter fun in Pakefield!
Pakefield's beautiful beaches make a great place for an Easter egg hunt, or to go egg rolling among the dunes, so if you've got your family round for a massive Easter roast dinner, make sure you take the opportunity to go for a wander together.
The highlight of the Lowestoft area's Easter festivities is the Lowestoft Lions Easter Egg Hunt, which takes place at Sparrows Nest on Easter Sunday. The hunt is for under 10s only, and entry must be pre booked by calling 0845 833 5737, though it is free to enter.
In addition to the Easter egg hunt itself, there will also be a performance by Lowestoft singing choir and the K SYL R RoadShow will be providing fun and games for all. For more events, check out our Pakefield visitors guide.
This Easter, Pakefield is the place to be! Plus, check out our Top Easter Gift Picks below!