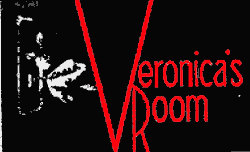 Fans of shocks, twists and labyrinthine drama are in for a terrifying treat next Friday, as Norwich's Baroque Theatre Company prepare to stage the sinister, unsettling play 'Veronica's Room' at the Seagull Theatre in Pakefield.
This chilling mystery thriller by the author of Rosemary's Baby takes you into an absorbing spider's web, entwining fantasy and reality and revelling in uncertainty and terror.
The story begins in 1973 as Susan Kerner, a young Boston college student, and Larry Eastwood, a young lawyer, have been enticed to the Brabissant mansion by the Mackeys, a charming, elderly Irish couple who are struck by Susan's strong resemblance to Veronica Brabissant, long-dead daughter of the family for whom they work.
Veronica's room is untouched by time and has been left exactly as it was in 1935. The mystery deepens as twist after twist unravels the frail threads of reality. Is it 1973 or 1935? And will Susan ever leave Veronica's Room? Following its critically acclaimed national tour of "Great Expectations" Baroque Theatre Company is proud to present the chilling 'Veronica's Room.'
So if you're in the mood for suspense, book your ticket now. Seats are £12, with concessions at £10, and can be booked by calling the Seagull Theatre Box Office on 01502 589726.