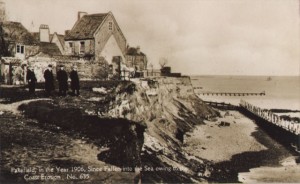 Pakefield's historic fishing industry may have suffered a terminal decline, but the town's fishermen and lifeboatmen have left their mark.
Now you can celebrate pakefield's heritage with a fantastic print showing the famous 1882 Gale, with lifeboats being scrambled to help rescue stranded fishermen.
Perfect for local history lovers, or anyone with a taste for the golden age of the Suffolk fishing industry, the prints come in a range of sizes and styles.
With a high-quality reproduction, each print has a truly authentic look, and evokes the bravery and danger of Pakefield's Victorian history.
Making a great gift for anyone with a love of Pakefield, prints can be framed or printed on canvas. So if you want to remember Pakefield the way it used to be, get your hands on one of these incredible prints.