With good weather on the horizon, its a good time to get out on to the water. With good conditions any sailor is bound to be happy.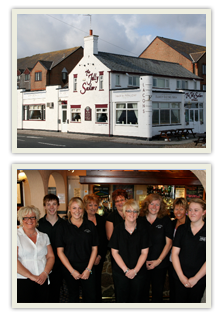 Out on the water a happy sailors day will only improve, with the sailor becoming Jolly.
Such a subtle introduction leads perfectly into the news that the Jolly Sailors in Pakefield has recently come under new management. (We got there in the end)
The restaurant boasts an impressive Grill menu as well as a tasty fish menu, topped with its Famous Luxury Fish Pie.
The restaurant has this to say about itself,
"The Jolly Sailors is situated on the cliff-tops of Pakefield Beach where we enjoy unspoiled views overlooking the sea and South along the heritage coast towards Southwold. On a warm summers day or evening there is no better place on the East Coast to enjoy the company of friends or family and fantastic food from our menu or perhaps a carvery which is served 7 days a week."
So if your in Pakefield on a summers day, any day for that matter take a trip down to the Jolly Sailors.
Pakefield is a lovely place to visit on the Suffolk coast. With a beautiful beach, a choice of great restaurants and quaint hotels and B&B's it could be a perfect little holiday on the Suffolk Riviera.