After a six-match run of unbroken victory, Kirkley and Pakefield FC was brought back down to earth after a defeat at Ely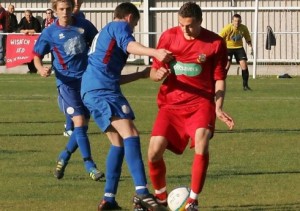 Yet manager Paul Tong has renewed his commitment to the club, and is confident that the tiny giant-killing side will avoid relegation.
"Until it's mathematically impossible for us to go down I won't sleep easy," the former Great Yarmouth boss told the EDP. "I'm hard on them but it's vital that we stay in this division. I will be looking to add one or two new faces and we've got some great youth players coming through."
Despite the loss at Ely, fans are thrilled with this season's performance, and are hopeful that if the team can avoid relegation that they will go from strength to strength.
The only fly in the ointment is the ankle injury suffered by striker Russell Stock, but Tong remains upbeat: "He's a big player for us and he's part and parcel of the run that we've been on recently. But when someone is out it provides a chance for somebody else and we've got some young lads knocking on the door of the first team."