The Lowestoft Airshow 2011 had a spectacular second day, with an amazing display by the Red Arrows.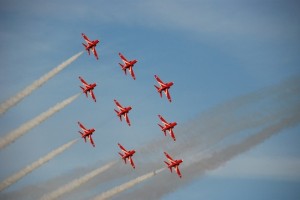 The event, near Pakefield, kicked off on Thursday to a somewhat rainy start, causing a few event cancellations disappointing a few of the 172,000 visitors on the day. Yet the sunshine came out for Friday's event and so did the spectators, with over 212,000 people coming to Lowestoft sea front to see an amazing aircraft show.
The stars of the show were most definitely the world famous RAF team, the Red Arrows. The team kicked off the day with a 400 mph daring stunt show, that dazzles thousands of people each year. The event, near Pakefield in Lowestoft, also had a fly over from two Tornado Fighter Jets and a collection of World War planes including a Spitfighter, Messerschmitt bf 108, and two P51 Mustangs.
The shows managing director Paul Bayfield told the Evening News, "I have just come back from the pier and it is a hell of sight to see all those people there.The vibe I am getting is that there are a lot of air show stickers about."
It's great to see such a brilliant event supported by visitors in such numbers. There's nothing like a British summer event and the sunshine to get people together. That's just what happened in Lowestoft, Suffolk which, along with Pakefield, has many more events up it's sleeve this summer and the coming winter.
The Lowestoft Airshow always puts Lowestoft and Pakefield on the map and sees thousands of tourists visiting the local towns. Many of those return on holidays after visiting the area, and most probably come back to see another amazing air show!
Take a look at the Red Arrows in action at this years show below: