Suffolk County Council's cabinet has voted to invest £7.5m in the proposed Pakefield High School, which is to be built on the former site of Pakefield Middle School.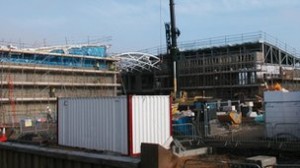 Money for new school buildings was supposed to be provided by a central government grant, which has since been cancelled, leaving a £12m shortfall in council education funding.
However, Suffolk County Council have remained committed to a new, state-of-the-art high school for Pakefield's children, and voted to invest Council funds to complete the project.
The first pupils are due to move to the new buildings this spring, with 900 students due to attend daily by 2014. Graham Newman, the county council's portfolio holder for children, welcomed the cabinet's decision, telling the BBC:"The new Pakefield High School is a key part of our planning for the Lowestoft area,"
"It represents the culmination of the county council's investment in this part of Suffolk to reorganise the education provision to the nationally recognised two-tier system."
If like Pakefield High School you need Modern Office Furniture UK – See CEKA, for all your funky office furniture needs in the UK.