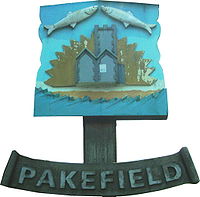 Once again it's nearly time to celebrate the old year and ring in the new, and once again we're here to give you a rundown of what's on for new year 2014 in Pakefield. From offers and deals at Pontins to local pub nights, Pakefield is the place to be on New Year's Eve!
If you're thinking of booking a Pontins new year, then make sure you don't miss the Pontins Groupon offer, which lets you book a magical three night new year break from £147 per family, with a free bottle of champagne thrown in!
If you're in the mood to see in the new year with a top-quality ale or two, then don't miss the Winter Beer Festival at the Ship Inn, where you can sample a range of local and imported beers, plus the usual range of festive wines and cocktails.
If you're looking for a family friendly new year's eve party, then book your ticket for the Beach Farm holiday park's fantastic all-ages New Year's Eve Party, which kicks off at 19:00 and features a fully stocked bar and a live band.
Make sure you save a little energy for a restorative walk on Pakefield beach on New Year's Day. Our beach is one of the most beautiful in Britain, and it makes for a wonderfully inspiring place to greet the first day of 2014.