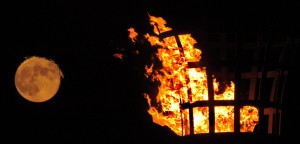 With the nation rallying together to celebrate the Queen's Diamond Jubilee, Pakefield residents showed their support with a stirring ceremonial lighting of the clifftop beacon.
The night was a roaring success, and the beacon made for an indelible image of national pride, as can be seen in Jonny Hawes' stunning photograph, which captures an orange moon, shimmering in the haze from the flames.
The stunning photo was used by the BBC's Look East News bulletin as part of their review of the East's jubilee celebrations, and is the perfect illustration of a once-in-a-lifetime event.
The beacon lighting ceremony was just part of Pakefield's Jubilee festivities, with street parties and school fetes giving everyone the chance to get involved.