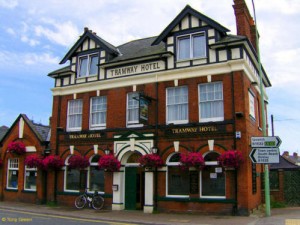 Despite being popular with locals and tourists alike, Pakefield's Tramway Hotel is under threat as Tesco launch a bid for the lease.
Pub manager Terry Hunter told the Eastern Daily Press that despite rumours of closure, the pub is still trading, though its future is out of his hands.
The decision rests with Waveney District Council, who will consider Tesco's planned conversion of the hotel into an Express store. Locals are unhappy, and many feel that Pakefield's existing Spar and Co-op stores mean that a new Tesco Express is unnecessary.
A Tesco spokesman told the EDP: "This reduces the need for longer trips out of town, particularly for those without a car," although this will do little to allay Pakefield residents' fears that the new store will affect local businesses.
A campaign has begun to organise a lobbying effort to persuade Waveney Council to reject Tesco's application. Over 1500 names have so far been collected, and organisers hope that public campaigning could help save the iconic Pakefield hotel.
There will be a public meeting held at 11am on Saturday 1 December at the Seagull Theatre to co-ordinate the campaign to save the Tramway. Labour MP Bob Blizzard will be present, as well as several councillors, so if you want to have your say, make sure you don't miss your chance.