Explore Pakefield with the Love Pakefield Celebrity Walking Tour
Sitting on the clifftops just to the south of Lowestoft town, Pakefield is a self contained suburb that grew out of a small fishing village. Until 1934 Pakefield and Lowestoft remained separate, but thanks to the fishing boom of the mid twentieth century, Pakefield now forms part of the town itself. Pakefield hit the national headlines in 2005 when archaeologists discovered flint tools that showed that the cliffs had been inhabited for over 700,000 years. These tools were the oldest evidence of human occupation anywhere in the UK until a discovery at Happisburgh, further up the coast, revealed tools some 800,000 years old. All we can say is that those early settlers who left Happisburgh and settled in Pakefield definitely made the right choice, as you'll see when you embark on our specially created Pakefield Celebrity Walk, which takes you on a tour of Pakefield's most notable residents and events.
Pakefield Celebrity Route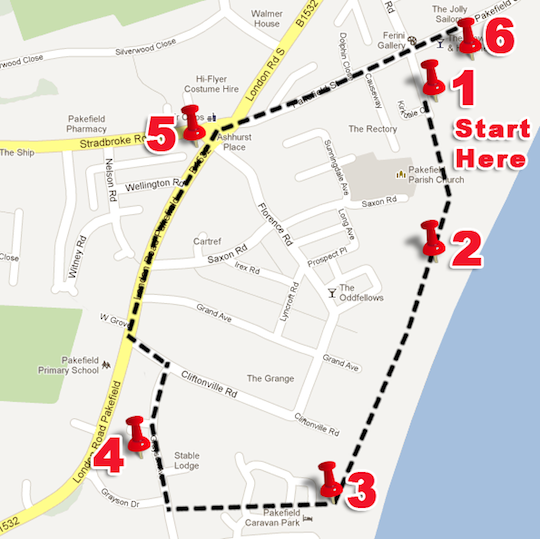 Our walk begins at the top of the cliffs at All Saints Road Car Park. (1) If you're driving, this is a great spot to leave your car, and it's very close to the end point of the walk. Before you head down to the beach, why not make a quick stop at the Ferini Gallery, where you can see and buy works by some of the most celebrated local artists.
Take the path at the end of All Saints Road down to the beach and walk to the south. This stretch of beach was recently featured on the BBC's Coast programme, which discussed the history of herring fishing in the area, and many small fishing boats can be seen. (2)
Local superstar Li'l Chris can sometimes be seen walking his dog here, as his grandparents live in one of the clifftop homes that overlook the sea. Keep an eye out for his distinctive peaked cap and cheeky face.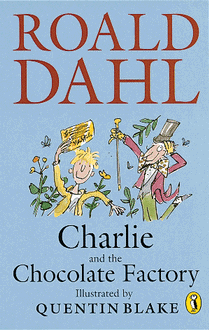 Keep walking down the beach until you get to the steps that lead up to Pakefield Caravan Park (3), where Yarmouth residents the Chuckle Brothers put on occasional open-air shows in the summer. Keep your eyes peeled for the train carriage that has been converted into a home – the narrow gauge clifftop railway used to pass through here on its way to Kessingland, but this is now all that remains.
Take a right down Grayson Avenue, where you may catch a glimpse of celebrated childrens' author and illustrator Michael Foreman (4), who is best known for his work with Roald Dahl on the Charlie and the Chocolate Factory books, and who lives in one of the street's large houses, surrounded by oak trees.
Turn left at Cliftonville Road, then right onto London Road, and walk into the centre of Pakefield, where you'll find award-winning local butcher K E Hutson (5), who are famous for their sausages and black puddings.
Bear right onto Pakefield Street and keep walking until you reach the Trowel and Hammer Pub (6), where our walk comes to an end. The Trowel and Hammer is a a great, dog-friendly place where you can find delicious homecooked foods and an incredible selection of local ales. It's also where local rock heroes the Darkness have been known to drink when they are home visiting their families.