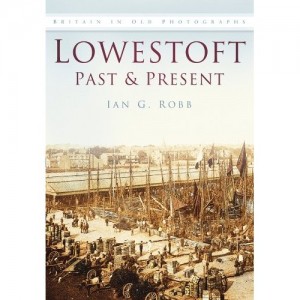 Lowestoft is a town of many faces, with a long and varied history that has seen the town transformed time and again. Flint tools dating back 700,000 years were discovered at Pakefield cliffs, establishing Lowestoft as one of the earliest known inhabited settlements in Britain.
Lowestoft has ridden the waves of change, developing from a booming herring fishing town to a seaside resort to a key industrial centre for the oil and gas industry. With so much history in one town, it's no surprise that there are many fascinating books tracing Lowestoft's evolution.
Humphrey Phelps' Lowestoft to Southwold: Images from the Past
explores the history of the coast between Lowestoft and Southwold through an astonishing collection of photographs from the turn of the 20th century. With sections on Fishing, Lifeboats, the Seaside and the People, this comprehensive book provides a rare glimpse into a fascinating period in Lowestoft's history.
Ian G. Robb continues the photographic theme with his book Lowestoft Past and Present (Britain in Old Photographs)
, which collects photographs that encompass a century in the life of the town, dating from Lowestoft's Victorian heyday to the redevelopments of the 1960s and 70s. This book is ideal for anyone looking to research the town or their family history, and features dozens of previously unpublished photographs.
As a key fishing port and a convenient target of opportunity, Lowestoft was hit hard by the bombs of World War II. Ian G. Robb continues his photographic Odyssey with Postwar Lowestoft
, which documents the losses suffered by the town, as well as the resilience of its people as they rebuild and return to normality.
More fantastic photos are on offer in Michael Rouse'sLowestoft & the Suffolk Coast Through Time
, which focuses on Lowestoft's continual reinvention, from fishing village to major centre of the herring industry to seaside resort and right up to the present day as the town seeks a central position in the renewable energy industry. Featuring stunning original photography, this book is a great way to chart the seismic changes that have made Lowestoft what it is today.
One of the best histories of the town is Jason and Elizabeth Freeman's Old Lowestoft
, which recounts some of the most intriguing episodes in Lowestoft's history, including the Zeppelin bombings of 1917 and the shooting down of Zeppelin L48. A truly enlightening read for all would-be local historians.
Thanks to its ever-changing nature, Lowestoft is packed with fascinating stories, including Under the Blue Lights: My Service with the Norfolk Ambulance Service at Lowestoft Ambulance Station (1974-1979)
, David Sheldrake's memoir of his time as a paramedic in the town. Packed with unique local perspective and engaging anecdotes, this is a great way to explore the unseen side of Lowestoft.
Lowestoft's trams were a hugely popular addition to the town when they were introduced in 1905, and David Mackley's Lowestoft Tramways
is a delightful document of this charming, and sadly defunct, mode of public transport.
The floods of 1953 were one of the most dramatic events to befall Lowestoft, and many survivors still recall the devastation that they left in their wake. Royal Flaxman and Dean Parkin's book Wall of Water: Lowestoft and Oulton Broad During the 1953 Flood
tells the story of the floods, featuring photos and eyewitness accounts